YOU WILL REACH YOUR DESTINATION EVEN THOUGH YOU TRAVEL SLOWLY
- Icelandic Proverb -
Iceland's landscapes are so diverse, dynamic and extreme it's hard to believe they all exist on this planet, let alone on one small island! Its extraordinary volcanoes, geysers, glaciers and waterfalls come surrounded with equally extraordinary folklore and respect from all those who behold them. Join us as we go off the beaten tourist track to hike and ice climb our way through some of the most magnificent landscapes in the world. Together, let's experience the legendary Land of Fire and Ice!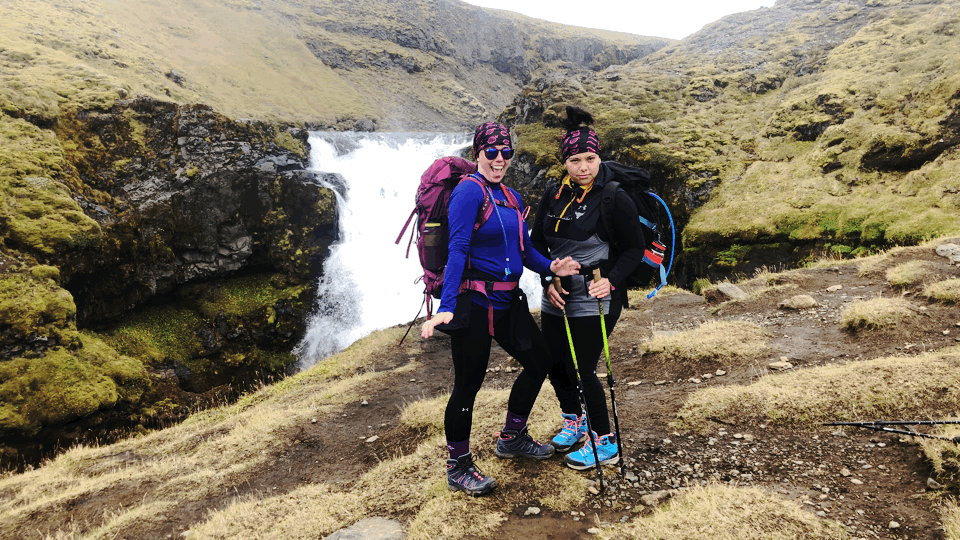 UPCOMING
ICELAND
ADVENTURES
ICELAND SOUNDS INCREDIBLE...TELL ME MORE!
UPCOMING ICELAND ADVENTURES

2020
SEPTEMBER 6 - 12
EXPLORE THE
LAND OF FIRE AND ICE
$3,700
avg group size: 15
M O R E I N F O
*Putting down a $500 deposit will reserve your spot on this adventure (which is a good idea because it will sell out fast)! You'll be invoiced and must pay in full at least 3 months before the adventure start date. All deposits are non-refundable.
DAY 1:
VELKOMINN TO THE LAND OF FIRE + ICE
Our WHOA crew will greet you at Keflavík Airport (KEF) bright and early, and we'll set out on our adventure by exploring the Reykjanes peninsula. You'll immediately start to see and feel the power of the sea and lava fields that make Iceland so special. Today is all about taking it easy and getting a good intro to Iceland before our epic active week begins. As we make our way along the south coast to Midgard Base Camp, we'll stop and eat an authentic Icelandic breakfast, walk the bridge between the drifting North American and European tectonic plates, and of course stop by the Blue Lagoon to soak in the geothermal waters of this majestic spot. By early evening we'll reach Midgard Base Camp, enjoy dinner together and get briefed on the adventure that lies ahead!
Included Meals: Breakfast, Welcome Dinner
Accommodation: Midgard Base Camp
SKÓGAR to ÞÓRSMÖRK via FIMMVÖRÐUHÁLS

Hiking Time: 8 - 12 hours
After a hearty breakfast, we'll ride to Skógafoss waterfall, the start of our beautiful 3 day hike. Today, our 28 km journey along the Fimmvörðuháls trek will take us along the Skogá river, past over 20 waterfalls, and between two of Iceland's most famous volcanos, Eyjafjallajökull and Myrdalsjökull. When we reach our highest point (1,100 m) we'll cross lava fields and craters created from Eyjafjallajökull's 2010 eruption. As we descend towards our camp in Þórsmörk, we'll be able to enjoy fantastic views of the highlands. In the evening, we'll enjoy dinner together, and maybe a local Iceland lager, if we're lucky!
Included Meals: Breakfast, Lunch, Dinner
Accommodation: Tents or Huts
ÞÓRSMÖRK

Hiking Time: 4 - 6 hours
We'll take the whole day to hike and explore more of Þórsmörk, aka the valley of the God Thor. Þórsmörk is surrounded by glaciers on three sides and it's unique beauty and formations comes from eruptions that happened underneath the glaciers. Needless to say, there are handfuls of trails and views to discover!
Included Meals: Breakfast, Lunch, Dinner
Accommodation: Tents or Huts
ÞÓRSMÖRK to MOSAR to HVOLSVOLLUR

Hiking Time: 6 - 8 hours
After breakfast, we'll pack our things and take the famous Laugavegurinn trail for 20 km from Þórsmörk to Mosar. This hike is relatively easy and has only about a 200 meter elevation gain, but, that said, the weather in central Iceland is notoriously unpredictable, so we'll have to be ready for all kinds of conditions! This route will take us over black sand, in small canyons and wading through rivers to Mosar where our super jeeps will meet us to take us back to Midgard Base Camp. We'll have a delicious dinner at Midgard, and the rest of the evening free to take a rewarding dip in the rooftop hot tub and sauna and maybe, if we're lucky, catch a glimpse of the Northern Lights!
Included Meals: Breakfast, Lunch, Dinner
Accommodation: Midgard Base Camp
After breakfast we'll head to an outlet glacier on the Mýrdalsjökull ice cap called Sólheimaökull for a basics course on ice climbing (no need for previous experience)! Once we suit up in our crampons and helmets we'll grab our axes and hit the ropes to test out our climbing skills! After our time on the glacier, we'll head out and explore some more sights on the beautiful south coast.
Included Meals: Breakfast, Lunch
Accommodation: Midgard Base Camp
FJALLABAK

Hiking Time: 2.5 - 3.5 hours
Today we'll explore the Fjallabak Nature Reserve via the Landmannalaugar Loop Trail, known for its rugged mountains and deeply incised valleys. From magnificent rhyolite colors to geothermal rivers, there's tons of diversity in the landscape here, which means there're tons of opportunities for adventure too. We'll take this trek nice and easy and enjoy a traditional Icelandic BBQ lunch when we finish, complete with a dip in the local hot spring!
Included Meals: Breakfast, BBQ Lunch, Celebration Dinner
Accommodation: Midgard Base Camp
After breakfast, and maybe one last dip in the rooftop hot tub, we'll say farewell to Midgard Base Camp and its Icelandic horses, before starting our journey back towards Keflavík, via the Southern Coast. In the afternoon, we'll say our goodbyes, and drop people off at the airport, or, for those staying longer, in Reykjavik city center. If you're departing this day, please book flights after 3:00pm to allow ample time for our ride to the airport.
Included Meals: Breakfast
Itinerary subject to change based on availability and unforeseen conditions, but that's part of the adventure! Even when things change, trust you'll be well taken care of with WHOA quality, professionalism, and TLC!