Little by little, one walks far.
- Peruvian proverb -
Awe-inspiring, beautiful and shrouded in mystery and history, Machu Picchu is a must do for every adventurous spirit! Join us and our amazing female led crew of local mountain guides for a special, off the beaten path trek through the majestic Andean mountain passes and lush jungles of the Salkantay Trail. After our 4 day hike, we'll arrive at the wondrous lost city of the Incas and explore parts of the ruins that few get to behold. The cherry on top, is an unforgettable afternoon with our lead guide, when she welcomes all our trekkers to her village to experience an authentic taste of life in the Sacred Valley. Be sure to take a look at our video gallery to see how we do, what we do!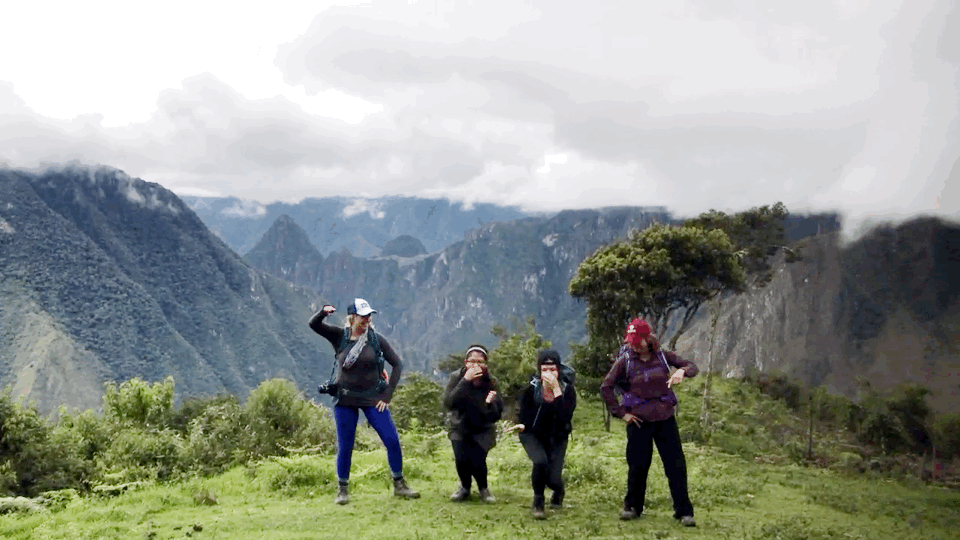 PERU
LIKE WHOA ADVENTURE GUIDE
TRAIL MAP + FAQ + TREKKING TIPS + PACKING GUIDE + MORE
TAKE ME TO MACHU PICCHU...TELL ME MORE!
UPCOMING PERU + MACHU PICCHU ADVENTURES
2020

PERU-SE THIS EPIC TREK
2020

FIND YOURSELF IN THE LOST CITY OF THE INCAS
2020

MACHU PICCHU + YOU = WHOHOO!
2020

HOORAY FOR THE SALKANTAY!
Arrive at the Cusco Airport (CUZ) where we'll be there to give you a warm WHOA welcome and take you to the hotel. You're coming into a high altitude, 3,400 meters (10,498 feet), so it's important to take it easy to let your body adjust throughout the day. Drink lots of water, coca tea (the locals swear by the stuff), and take the afternoon to rest and roam around the beautiful city that is Cusco. (We recommend hitting up the colorful, bustling San Pedro Market for an authentic taste of the Cusqueña culture.) At night we'll meet for an authentic Peruvian meal (yum!), meet our guides, and get briefed for our trek.
Included: Bienvenida dinner
We highly recommend our adventurers to arrive at least one day early if possible! This will give you time to settle in, get rested, acclimatize in Cusco, and have a buffer in case of flight delays or lost luggage. There will be detailed information on how to book extra nights at our partner hotel in the Pre-Adventure HUB that you will receive a few months before your adventure.
CUSCO to SORAYPAMPA to SOIROCOCHA

Elevation: 3,400 - 3,900 - 4,400 m
Hiking Time: 4 - 5 hours
Distance: 9 km
We'll leave Cusco first thing in the morning and take a scenic drive through the Andes to Soraypampa - where our 4-day Salkantay trek to Machu Picchu begins! The Salkantay Trail is a custom-designed, off the beaten path alternative to the classic Inca Trail that provides more spectacular vistas, privacy and authenticity than the traditional route. Oh and, did we mention that National Geographic Adventure named it as the coolest way to trek to Machu Picchu?! After eating a homemade breakfast, we'll begin trekking to our first camp, Soirococha (4,400 m), where we'll have the evening to enjoy the gigantic glaciers and majestic mountains surrounding us!
Included: breakfast, lunch, dinner
SOIROCOCHA to SALKANTAY PASS to COLLPAPAMPA

Elevation: 4,400 - 4,600 - 2,850 m
Hiking Time: 9 - 10 hours
Distance: 22 km
This is one of the most humbling and physically challenging days, but it's also one of the most beautiful and rewarding! We'll reach the highest point on our trek, the Salkantay pass (4,600 m), as we hike between the Salkantay (6,264 m) and Humantay (5,990 m) glaciers. It's a long day, but there'll be plenty of time to stop for photo ops (and dance parties) before traversing the valley to camp.
Included: breakfast, lunch, dinner
DAY 4:
IT'S A JUNGLE OUT THERE
COLLPAPAMPA to LUCMABAMBA

Elevation: 2,850 - 2,000 m
Hiking Time: 4 - 5 hours
Distance: 6 - 7 km
The temperature will start to become warmer and our surroundings more tropical as we follow the trail along the Santa Teresa River. The contrast between the lush forests and mountainous peaks is one of the many reasons this trail will take your breath away! We'll be entering the "Ceja de Selva" (eyebrow of the jungle), which is full of colorful orchids, hummingbirds and flocks of parrots. At the end of the trail we'll be picked up and take a fun, panoramic drive to camp. At camp we'll have time to relax and tour a local coffee farm, complete with a tasting, before dinner.
Included: breakfast, lunch, dinner
LUCMABAMBA to HIDROELECTRICA to AGUAS CALIENTES

Elevation: 2,000 - 1,890 - 2,050 m
Hiking Time: 7 - 8 hours
Distance: 14 km
We'll pass through some avocado, banana and coffee plantations on the final leg of our journey to Machu Picchu. We'll start the day hiking up to Llactapata Ruins (2,650 m ), one of the most scenic spots on the trail! Once there, we'll have a break and listen to the history of the area while we enjoy a spectacular view, a sneak peak if you will, of the backside of Machu Picchu! We will then head to the Hidroelectrica train station for lunch followed by a short train ride back to civilization to spend the night in the town of Aguas Calientes. You'll have the evening to recuperate, take a hot shower and roam around the charming town.
Included: breakfast, lunch
DAY 6:
DISCOVER
THE LOST CITY
AGUAS CALIENTES to MACHU PICCHU to CUSCO
Elevation: 2,050 - 2,430 - 3,400 m
We'll start early, so we can experience Machu Picchu in the magical morning light. You'll have time to get lost in the Lost City of the Incas, and our guide will be on hand to tell you more about the fascinating history of this World Heritage archaeological site. In the afternoon, we'll take a scenic train ride back to Cusco for the evening.
Included: breakfast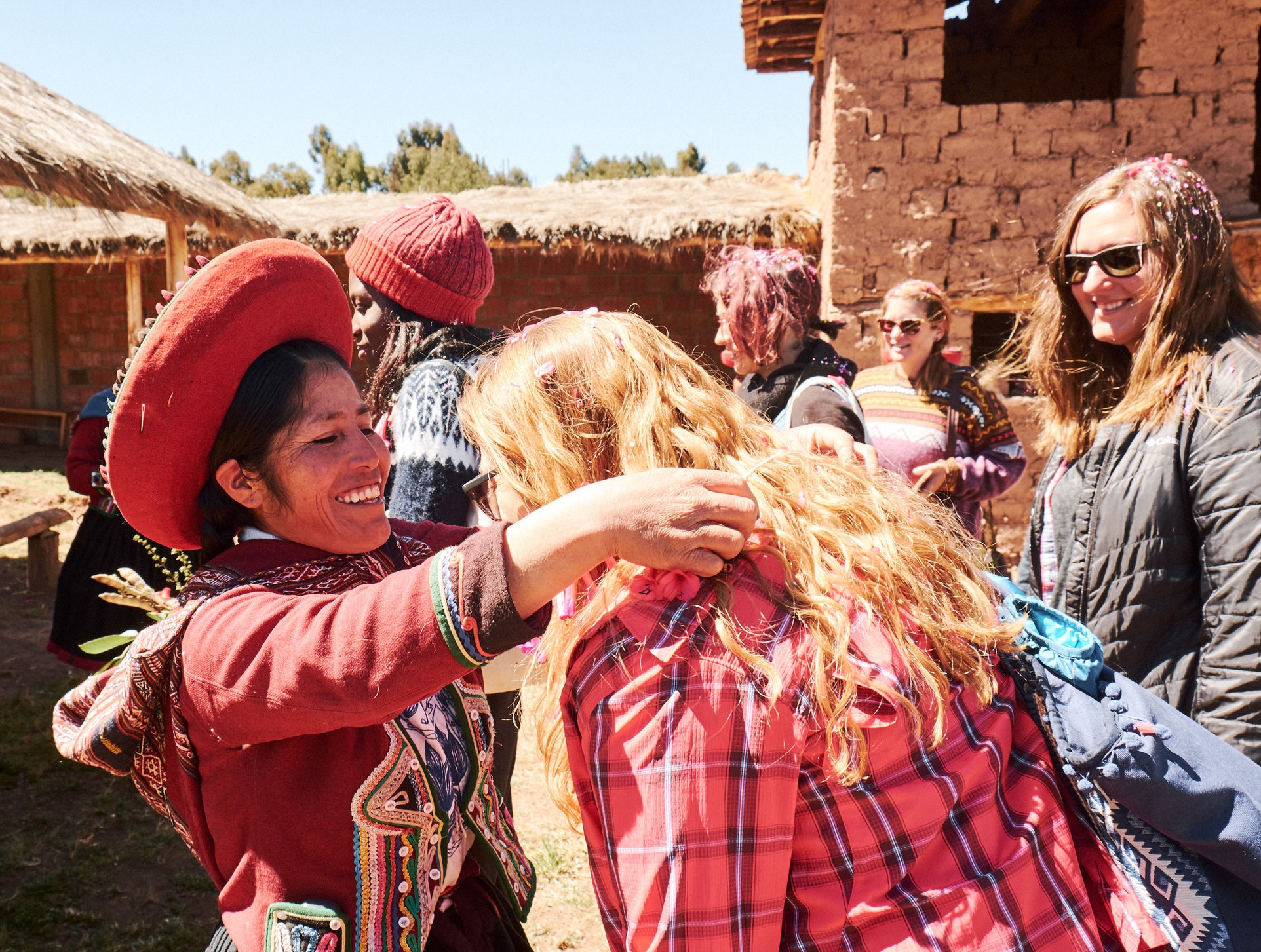 At WHOA, every adventure is made more special by connecting and sharing adventure experiences with local women. Our last day in Cusco as a group, is all about reflecting, reinforcing and celebrating how special and powerful women coming together is! We'll begin the day with a visit to Mama Sherpa's village, Chinchero. Here you will connect with the local women as they tell you how they have come together to use their skills to improve the lives of those around them. At night, we'll regroup for a celebratory dinner, and toast to the awesome adventure we all shared! **
Included: breakfast, lunch, Celebration dinner
We'll say our goodbyes before you head to the airport to return home, or continue on adventuring!
Included: breakfast
THIS ALL LOOKS AMAZING! TAKE ME TO YOUR PERU + MACHU PICCHU
Itinerary subject to change based on availability and unforeseen conditions, but that's part of the adventure! Even when things change, trust you'll be well taken care of with WHOA quality, professionalism, and TLC!
**It's of the utmost importance to us that any giving back we do is sustainable and fills a need that is of value to our partners. For that reason, our visits and partnerships can and do vary depending on the season, the organization's needs, and the abilities and desires of our group. Bottom line, in each case, we do due diligence to seek out local partners that are doing great, sustainable work, and we work closely with them to understand their needs to create an experience that will truly be of value to them and you!