Be fearless in the pursuit of what sets your soul on fire
- Jennifer Lee -
WHOA plus is made especially for all you courageous, curvy adventurers out there, and is all about having fun in the skin we're in now! These body positive trips offer the thrills and dance parties that come standard on WHOA adventures, plus the camaraderie of taking on a challenge with other like-bodied women. A WHOAlum and proud plus sized traveler inspired the idea of this new division after her first Kilimanjaro climb when she recognized there are unique challenges that plus size women face in adventure travel. We want you to know that adventuring is for everyone, so join us on one of our carefully tailored WHOA plus adventures for women of ALL shapes and sizes!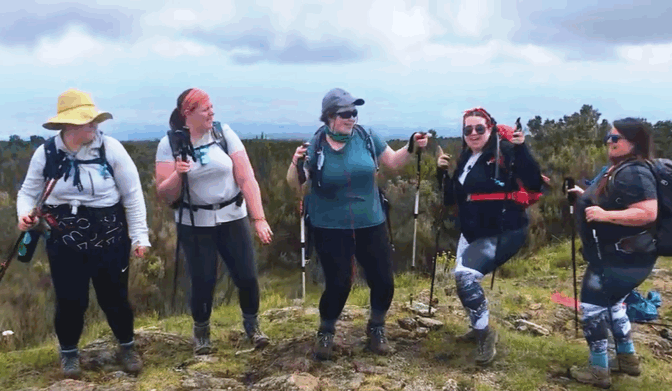 UPCOMING
whoA PLUS
ADVENTURES
I AM WOMAN, HEAR ME ROAR!
COULD YOU PLEASE TELL ME more?!
CHECK OUT WHOA WEAR

Perfect for chillin' and killin' it on the trails.
UPCOMING WHOA PLUS ADVENTURES
2020
WHOA plus: KILIMANJARO

Celebrate self love with this special body positive Valentine's Day summit on the Rongai Route
2020
WHOA plus: PERU

PERU-se this extra special 5 day Salkantay trek to the majestic Machu Picchu!
2020
WHOA plus: ICELAND

Discover the Land of Fire and Ice Ice Baby!