EVERYTHING YOU NEED TO KNOW FOR YOUR JOURNEY TO MACHU PICCHU
The Salkantay trail is the highest route to Machu Picchu, reaching an elevation of 4,600 m (15,200 ft) on day 2 at the beautiful Salkantay pass. Unlike a traditional summit climb, the direction of your destination is not vertical. You'll trek through a series of ups, downs, twists, and turns before a final descent into the Lost City of the Incas, Machu Picchu!
Use this Salkantay packing checklist as a guide for our trek to Machu Picchu. Make sure to use your best judgment and discretion when deciding exactly what you want to bring (no one knows you better than you)! Pack as light and smart as possible and bring durable, multi use items. Our biggest piece of advice is to pack LAYERS! You'll want warm clothing in the mornings and evenings when it's chilly, but be ready to strip down in the afternoon when temperatures are highest. Light layers to throw on and off come in handy as you ascend to high, windy passes and descend into cool shaded valleys throughout the day. On the first night of the trek temperatures go well below freezing, so if you get cold easily, pack accordingly! Pro tip: shy away from cotton and stick to wool and/or synthetic dry-fit garments that, unlike cotton, will wick away moisture.

A large water poof duffel will be provided to hold all your gear and will be carried from camp to camp by mules. This duffel has a strict 16 lb weight limit including your sleeping bag (just another reason you'll want to pack light and smart). Every day you will carry your personal necessities (camera, rain layers, sunscreen, etc...) in your day pack. You'll be able to leave the rest of your luggage at the hotel in Cusco where it will be locked up safe and sound while you're hiking. You should carry all your valuables (like your passport and wallet) with you at all times on the trail, and always lock your bags.

The Salkantay trek to Machu Picchu can be taken year round, but rainy season is typically December - February so we highly recommend the drier months of March - November. April - May and October - November are the sweet spot when you'll avoid the rain and the bigger summer crowds at Machu Picchu. Temperatures throughout the year follow a fairly consistent pattern: days are warm (highs are in the 70s F/20s C on average) and chilly at night through the early morning (lows are in the 20s to 40s F/-6s to 4s C on average). As you'd expect, the temperatures get cooler as you ascend, and warmer and more humid at the lower altitudes in the Andean rainforest. For that reason, it's especially important that you are prepared for changing temperatures and pack smart! With no further ado, here's our Salkantay packing guide…
 2 HATS
Bring something with a brim for sunny days, and a warm beanie for colder nights. Both are great for hiding dirty hair too!
 2 PAIRs OF GLOVES
One heavy, insulated warm pair for the colder nights, and one medium weight fleece or wool pair.
 3-4 MOISTURE WICKING TOPS
Bring a few lightweight tops, so you can layer and re-wear them. Pack a mixture of tanks and long sleeve options.
 2-3 MEDIUM LAYErS
These will provide insulation, and include, but is not limited to, thin fleeces, light down jackets, and vests that you can easily stuff in your daypack and layer on and off as your temperature and the conditions around you change.
 1 OUTER LAYER JACKET
A warm, waterproof/resistant jacket with a hood that you can wear over all your layers. This is a must-have at higher altitudes!
 1 PAIR HIKING BOOTS
The most important thing you'll bring! Make sure they are Gore-Tex, have ankle support, and that you've broken them in nice and good.
 1 PAIR CAMP SHOES
Comfy, closed toed, easy to slip on shoes are great to have for camps, and going to the bathroom at night. Trust us, the last thing you want to do is put your boots back on after a long day of hiking. We love our CROCS for this - they're lightweight and durable.
 2-3 BOTTOMS
You'll want a few pairs of pants to last you the entire trek. Bring at least one pair of shorts or capris for the hotter days and long, insulated pants or fleece tights to layer on when it's colder.
 1 WIND & WATERPROOF PANT
A non-insulated, outer layer pant is a must-have to layer on over your base layers in the case of rain or wind.
 1 THERMAL BASE LAYER
A thin, snug fitting, moisture wicking top and bottom set that you can wear underneath everything at higher altitudes to regulate your body temperature by keeping sweat away from your skin. We recommend a sport synthetic fabric like polyester or merino wool.
 3-4 PAIRS WARM SOCKS
Bring a few different weights - lighter for the hotter days, and serious heavy ones for the nights and colder days. A pair of liner socks are great to help prevent blisters too!
 2-3 SPORTS BRAS
Bring bras that provide support, feel comfortable against your skin, dry quickly and don't bind, smoosh or chafe.
 4-5 UNDERWEAR
Even better if they're the quick dry wicking kind! Another stay fresh tip we love is to use ultra thin panty liners that you can easily dispose of and change everyday instead of changing into a new pair of underwear.
 1 DAY PACK
You'll need a basic, light weight hiking backpack to wear everyday to carry your water, extra layers, snacks, etc… Something around 28 L is perfect. We recommend getting one that is compatible with a water bladder and hose, and has a built-in rain cover. Please note, if your daypack is over 30L you will not be allowed to bring the pack into Machu Picchu, alternatively you can pack a drawstring backpack in your duffle to carry with you on the Machu Picchu day.
 1 WATER BLADDER & BOTTLE
Staying hydrated is of the upmost importance! We highly recommend getting a 3 L water bladder with an insulated tube and cap. It's the easiest way to carry and drink your water, while trekking. Also, bring an additional 1 L water bottle or Nalgene.
 1 PAIR TREKKING POLES
Three-section, adjustable-height models are best. You can save space and rent these from us locally, just be sure to make a note of that in our Pre-Adventure HUB.
 1 RAIN PONCHO + WATERPROOF JACKET
Sometimes it's too hot and uncomfortable to wear a waterproof jacket, so a poncho is perfect to throw on to protect you and your day pack from water. It's also a good idea to bring a light weight waterproof jacket.
 1 FOUR SEASON SLEEPING BAG
This can be rented through us locally, just be sure to make a note of that in the Pre-Adventure HUB. Sleeping mats are provided free of charge to everyone on our treks!
 1 SLEEPING BAG LINER
This will add an extra layer of warmth at night, and is a must have if you're using a rented sleeping bag.
 1 BUFF OR BANDANA
An all around great item to always have with you. You can use it as a neck gaiter, head band, sweat rag, etc...
 1 HEAD LAMP + BATTERIES
Important for when the sun sets at camp. Start the trek with fresh batteries, and bring a spare set just in case.
 POLARIZED SUNGLASSES
Protect your eyes from the fierce equatorial sun! Polarized are best for reducing glare on long days in the sun.
 CAMERA + EXTRA BATTERIES
There are so many amazing photo ops! DSLRs can be cumbersome to have with you while trekking, but nowadays, most smartphones have great cameras and are compact and durable enough to work well in the mountain conditions. Compact point-and-shoots work well too, just make sure no matter what you choose to bring, that you have spare batteries and/or portable battery chargers. Always pack your electronics in waterproof bags/cases.
 MEDS
Consult with your physician on any prescription medication you might need for this adventure, especially Diamox, a common medication taken for preventing altitude sickness. Other common medications you might want to bring along include, pain relievers, anti-histamines, antidiarrheals, etc…
 PASSPORT
Make sure it's valid for 6 months after your adventure dates, and it's always a good idea to travel with an extra photocopy of it. You're required to keep it on you while trekking, so bring a Ziploc/waterproof bag to keep it safe and dry when it's on the mountain with you. You'll need your passport to enter Machu Picchu (you can get a stamp in it too)!
 FIRST AID
We'll have all this stuff on hand, but make sure you have Neosporin, Vaseline, bug spray, band-aids, moleskin, duct tape, hand sanitizer, etc...
 SUNSCREEN + LIPSCREEN
This is a must have for being in the strong mountain sun all day! Bring a new, full tube with an SPF rating of 30+.
 TOILETRIES
Don't forget the travel essentials like deodorant, sun screen, lotion, lip balm, hair ties, hair brush, face wipes, tampons, contact solution, toothbrush, toothpaste, ear plugs etc…
 BUG REPELLENT
Choose a serious one with DEET or a DEET alternative like Picaridin
 QUICK DRY TOWEL + WIPES + Toilet paper
Who needs running water and a shower?! Don't forget about the environment and make sure your wet wipes and TP are biodegradable.
 2 LUGGAGE LOCKS
Always lock your things! Have one for your duffel on the trek, and have one to lock your suitcase that will stay at the hotel while you're trekking.
 REUSABLE & PAPER BAGS
Let's do our part to reduce plastic pollution around the world! We ask that when packing please only bring reusable bags like stuff sacks, dry bags, silicone bags, and/or packing cubes. We recommend bringing along several different shapes and sizes of these to help organize and separate dirty clothing, gear and toiletries. For waterproofing your phone/passport/money, we recommend using a dry pouch. Having a stash of brown paper lunch bags or sanitary bags is great for collecting and carrying out trash.
 SNACKS
There's plenty of hearty food provided at meals, but the days are long and you'll want some snacks to keep your energy up! Bring nutrient rich things like protein bars, trail mix and electrolyte powder. It's common to lose your appetite at high altitude, so bring some comfort foods like crackers and candy. You know how your belly needs to be fed so pack accordingly!
OFF THE TRAIL + MORE PACKING TIPS
Cusco is a fairly big city with nice restaurants and a fun nightlife, so, while it's casual, when you're out you'll probably want to dress differently than you did on the trek. It's very walkable, and strolling around the narrow streets is a great way to spend the day, so bring comfortable shoes. The temperature is usually around 50 F and but it can cool down dramatically at night, so bring a jacket or sweater. The handicrafts and shopping are amazing, so save room in your suitcase! There are also lots of outdoor gear stores in Cusco, so if you forget something, you can most likely find it in a store before we start our trek.

Peru is a safe place for travelers, but you need to be smart and aware because petty theft and pick pocketing happens. Don't wear expensive-looking jewelry or have other valuables on show while you're out. In fact, it's best to just leave it all at home. When you're walking around town, use a money belt to carry your cash and have it secured in a position that you can access discreetly. If you are carrying a handbag, wear it over your shoulder and never put it down (not even for a second). Most of this is common sense and most travelers here have a trouble-free stay full of fun and adventure!
FUN PERU + MACHU PICCHU FACTS
Machu Picchu is a grand and spiritual site built during the Incan Empire between 1438 AD - 1532 AD. Its exact former use remains a mystery, but the leading theories believe it to have been a ceremonial site, military stronghold, or a retreat for ruling elites (its dramatic location makes it well suited for any of those purposes). Although the Inca themselves were a small ethnic group, they gained control over more than 12 million people from 100 different cultures in an area stretching over 2,500 miles during their 100 year reign! When the Spanish arrived in the early 1500s, the Inca abandoned their holy city to preserve its architecture and beauty from the invading conquistadors. As the Inca hoped, Machu Picchu was never discovered by the Spanish. It wasn't until 1911, 300 years after it had been abandoned, that French-American explorer Hiram Bingham came across the "lost city" as he was searching for the hidden capital city of Vilcabamba (which is located 50 miles north). Because the Incas left no written history, most of what we know about Machu Picchu comes from archaeological finds. Here are some more fun facts about the history and mystery of Machu Picchu and the Legacy of the Incas:
Inca religion was complicated and incorporated many aspects of the sky and nature. The Inca visualized Inti, the Sun God, as a man, and his wife as the Moon. Most Incan architecture was designed and built for the worship of the Sun, Moon and stars.
GET A BIRD'S EYE VIEW
Machu Picchu sits in the shadows of two mountains, Montana Picchu and Huayna Picchu, both of which are believed to have been used by the Incas for worship and sacrifice. You can hike up either mountain from Machu Picchu for amazing, panoramic views of the Incan citadel!
YOU'VE GOT MAIL
Because the Inca did not have a written language, they were extremely skilled verbal communicators. They had a postal system where relay messengers would run across rope bridges to deliver communications to the next team on the other side.
Many researchers believe Machu Picchu was built as an astronomical observatory, and the site's multiple observation points suggest that the Incas worshipped the sun. The Intihuatana stone is evidence of this, because, twice a year during the equinox, the sun sits directly over this sacred stone with no shadow.
BUILT TO LAST
It's estimated that it took around 5,000 people to build the over 140 buildings in the Machu Picchu citadel, and they did it without the use of draft animals, iron tools, mortar, or the wheel. They used a dry stone technique where perfectly split stone bricks were put together like a huge puzzle. Some of the bricks packed so tightly together that you can't even put a knife between them. Machu PIcchu was constructed atop two fault lines, so without this Incan ingenuity, many of the best known buildings would've crumbled long ago!
WHAT'S FOR DINNER?
Corn, or maize, was the central food in the Incan diet. They even drank a beer called Chicha made from fermented maize. They also they commonly ate guinea pigs, or cuy, that fed on plants and kitchen scraps inside their homes. In fact, Peruvians in the region still eat cuy today, so keep an eye out for it on the menu!
These adorable guys belong to the camel family, and are now considered South American natives. They have a pretty amazing history that dates back about 40 million years! They used to live in the central plains of North America, but, during the ice age, they migrated down to South America and started residing in the Andean Mountains. They were domesticated in the highlands of Peru by the Inca where they were worshipped and named "silent brothers." They still play a huge role in life in the region, and so you can expect to see lots of them hanging around Machu Picchu and in towns along your journey.
Peru is home to the largest array of butterflies in the whole entire world - over 3,700 different species! Needless to say, you'll see many different shapes and sizes of these beautiful creatures flittering and floating through the air along the trail. The great diversity in species is attributed to the varying climate zones the Salkantay trek covers. Keep an eye out for the rare and exotic sapphire blue Callithea, which can only be found in South America.
With their vibrant orange and scarlet feathers, you can't miss the males of this native Andean bird species. They have a large half-moon shaped lump of feathers on their head that's used to attract females, and are known to be aggressive for their gals! In fact, they got their name because they have loud and aggressive mating habits similar to roosters, or cocks.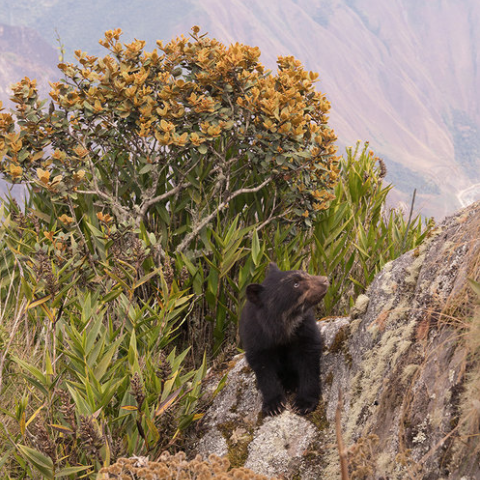 These shy mammals like to hide out in the trees of the Andean cloud forests. They get their name from black circles around their eyes that look a lot like eyeglasses, or spectacles. They're fluffy and friendly, and barely ever walk along the trails...however, on rare occassions these bears are spotted taking a tour of their own around the ruins of Machu Picchu, can't say we blame 'em!
Hola , cómo estás
Hi! How are you?
muy bien
very good
adiós!
goodbye!
¡ buenas noches !
good evening!
por favor
please
muchas gracias
thank you very much
de nada
you're welcome
Vámonos
Let's go!
Mucho gusto!
Nice to meet you!
Lo siento
I'm sorry
agua potable
drinking water
AMIGO
friend
¿Cómo se dice...en Español?
How do you say...in Spanish?
Me llamo...
My name is...
Quechua is the ancient Incan language, and, to this day, is still the most widely spoken Amerindian language, with over 8 million speakers. In Peru alone a quarter of the population speaks Quechua, and about a third of the Quechua speakers speak no Spanish. The language is still very alive in the Sacred Valley region, in fact, the name Cusco means navel, Machu Picchu means old peak or old mountain, and Inca means ruler, or lord, and was used to refer to the ruling class or the ruling family in the empire. Some English words, like coca, condor, guano, gaucho, jerky, lima (bean), llama, puma and quinoa, are derived from Quechua. Here are some basic words and phrases that might come in handy on your adventure through the ancient Incan empire:
imanallya
hello
cayacama
goodbye! (until later!)
alli puncha (A-jee POON-cha)
good morning
alli chishi (A-jee CHEE-shee)
good evening
inti
sun
killa
moon
qoyllor
star
rit'i
snow
HOW TO HAVE THE HAPPIEST & HEALTHIEST ADVENTURE POSSIBLE
Get to know the other trekkers and your crew
You're all taking an incredible journey - one that's made exponentially better because you're sharing it with each other. Don't forget that together, you have a collective strength that will get you through even the toughest times!
TAKE TIME TO ACCLIMATIZE
Because of the significant altitude changes on this trail we recommend taking at least 1 day in Cusco (3,400 m) to acclimatize before beginning your journey on the Salkantay. Before you leave, talk to your doctor about the best ways for you to cope and manage the sympotoms of altitude.
It's about the journey
Going slowly will keep you safe, happy and healthy by allowing your body to adjust to the daily altitude gains. Not to mention, it gives you the chance to really take in all the stunning scenery! Don't force yourself to walk faster than your body wants to. Talk to your guides and let your them know how you're feeling, and know that our WHOA Peru crew is 100% dedicated to keeping you happy and healthy! If you do not feel comfortable with the hiking pace, but want to keep up with the group, don't be afraid to ask for the help of a horse or mule - and enjoy the ride!
REMEMBER THE BIG PICTURE
Take time every day to reflect on where you are, what you're doing, and why you're doing it. Taking moments by yourself to stop and take it all in will help you recharge and keep perspective.
We live in an amazingly beautiful world! You're at the mercy of mother nature when you're trekking, and that's a beautiful thing - one that we often forget in our daily lives. Even when you choose the best season, the weather can be unpredictable. So while we all hope for the best, be prepared for the worst. It's all a part of the adventure - embrace it!
Be on time!
You'll be on a strict schedule and have to stick to it (it has to do with the changing weather, meals and making the most of our daylight). So, when the guides and GALs say 8am, they mean 8am. Vámonos!
DON'T GET BURNED
Protect your skin by applying (and reapplying) sunscreen and lip balm everyday. Even if it's chilly out, you'll be at high altitudes, close to the equator, and the sun is no joke and winds are intense. And, don't forget polarized sunglasses to protect your peepers!
AGUA! AGUA! AGUA!
Once you're on the trail, be sure to drink lots of water! Staying hydrated will keep your energy levels up and is the best way to deter any side effects you might feel from the altitude. You can also drink coca tea, a natural energizer made from coca leaves that the locals swear by.